People in England and the United States prefer colourful maps and illustrations with precipitation and clouds at the moment rather than brief weather reports. The American development of Yahoo! Weather attracts many users precisely because of its unique design. Meteorological data comes from a service such as the Weather Channel.
Functionalities
Weather information indicates on the home screen. This program has the ability to integrate with the launcher, and in this case, your information will look aesthetically combined with any theme. There are much more of other features:
Displays the data of the region where the user is located. This function works if the location mode is active. Current information indicates there, as well as information about the highest and lowest temperature per day.
Section with real indicators. This is visibility, temperature, humidity and UV index, according to citizens. Often it is different from the real. For example, on the street it is -10 °C, but due to cloudiness and wind, many citizens think that the temperature reaches -15 °C.
Location demonstration. You will be very comfortable if you do not switch between «Weather» and «Maps», and you will be in one program to study the nearest settlements and weather conditions in them.
Block «Precipitation». Here, the information contains information that will tell you not only about the current rainfall, but also about how likely they will go in 5, 10 and 15 hours.
Tab «Sun and Moon». There, the arrangement of the celestial lights, the time of sunset and dawn indicate.
Picture the weather outside. This is a unique widget that will show if it snows or rains outside.
Timeline. So, with this feature, you can know the temperature at any time of the day, such as at a given point in time and over an hour.
Section «Wind and Pressure».
You will surely find useful items that will help you to learn about the weather not only in your locality. All you need to do is click on the + symbol in the right corner of the screen and add any place even if it is in another country.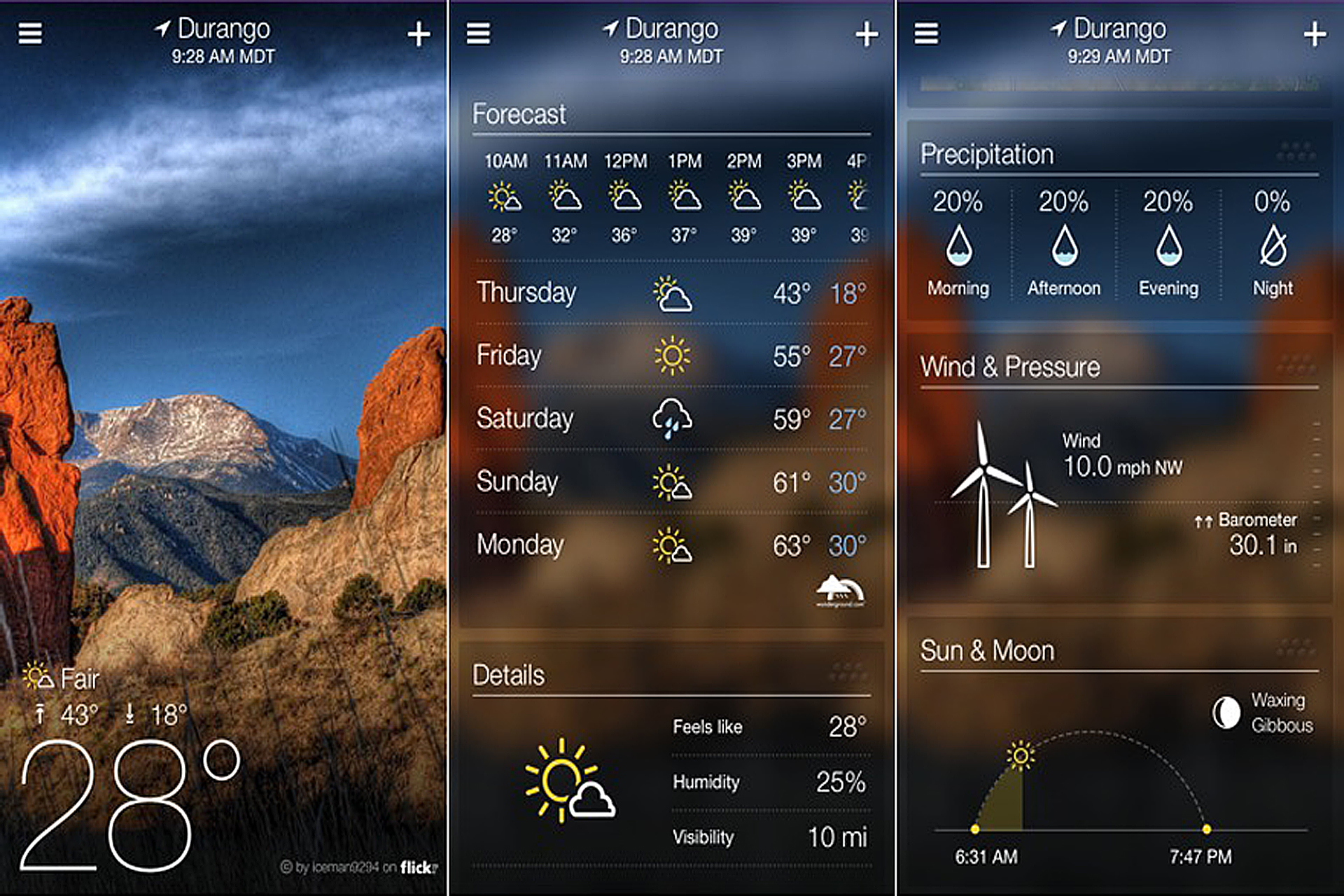 Local photography
The main feature of the app is that it not only demonstrates a standard icon with a raindrop or sun, but it also cooperates with photo hosting. If the user has geolocation enabled or manually specified a location, this program will indicate its photo with similar weather instantly. However, this function does not always work correctly. In addition, if the program does not have a suitable snapshot in its database, you will just see a standard picture on your widget. This program has the ability to sync with a service like Facebook, and then it will display the places where your friends shot their stories. To make this app even better, any user can register on Flickr and add photos of your home town.
Strengths and weaknesses
The main strength of this program is its design. Photos of the terrain are taken in HD quality, have beautiful compatibility and look unique and attractive. Widgets are combined with any louncers. You can certainly trust this program because it always displays the temperature correctly. It sends bad weather warnings to its users. Also, you have the function of customising os such factors:
notifications;
animation of precipitation;
program version;
units;
the maximum amount of local storage this app will consume during the day.
However, there are some weaknesses too. Sometimes the program simply does not have any information about a particular city. Sometimes, you can deal with this problem by entering the program coordinates or postal code of your settlement. Also, this program does not work on any device at all. After each update, the developers add another ad to their widget. It becomes more unstable and gives users many errors. For example, an app can show that it is raining outside, although the sky is clear.
Conclusion
Yahoo! Weather is a unique program In issue of design. It allows users to study the weather at any location selected on the map, determine the geolocation and output pictures of the city with the corresponding precipitation. However, this widget may misfire and after each update, the number of positive reviews decreases, but negative ones grow.