AccuWeather is a smartphone program that allows users to learn the weather quickly. This amazing app works very precisely, so it is considered one of the most popular in the world. Media and other reputable sources often use this program in their job.
Menu
You can enable the menu with a simple finger movement. To do this, you should click on the icon of your program or on the widget from your display. Each user can get five sections in this program, such as:
Search engine. In this widget, you will write your location, the weather in which you are interested to know. Also, you can select a region on a simplified model of the globe. Also, you can monitor several regions and their weather in parallel.
There are two buttons, such as «Functions» and «Quit». Among the actions available are selecting the region, requesting updates and, of course, settings.
Interactive panel.
Alert area. The user can also mark the most interesting information to be displayed here from the menu.
Brief information. This panel looks about the same as the widget itself.
This program will show you some current data on the interactive panel too.
Functionalities
AccuWeather provides reliable information in modern format. Maps such as Bing are relevant there. Main panel is interactive and panoramic. Day and night forecasts will additionally show you a block of subjective temperature. This information indicates the feelings of citizens, but basically they are different from the actual ones. All this makes this program convenient for users.
Thanks to this program, you will be able to perform such actions as:
view the weather anywhere on the planet;
get forecasts for some sports;
display data in standard or English system;
quickly switch between data about selected cities;
receive forecast for a part of the day, all day or several days;
save and rename multiple locations, not including the current location defined by GPS.
The information is updated hourly. Interactive and satellite maps, animated radar will be available for you. In the United States, Weather Alerts operates, and in all other countries, Weather Alarms is the most popular analogue of this widget. You will also receive all kinds of weather videos in English and Spanish.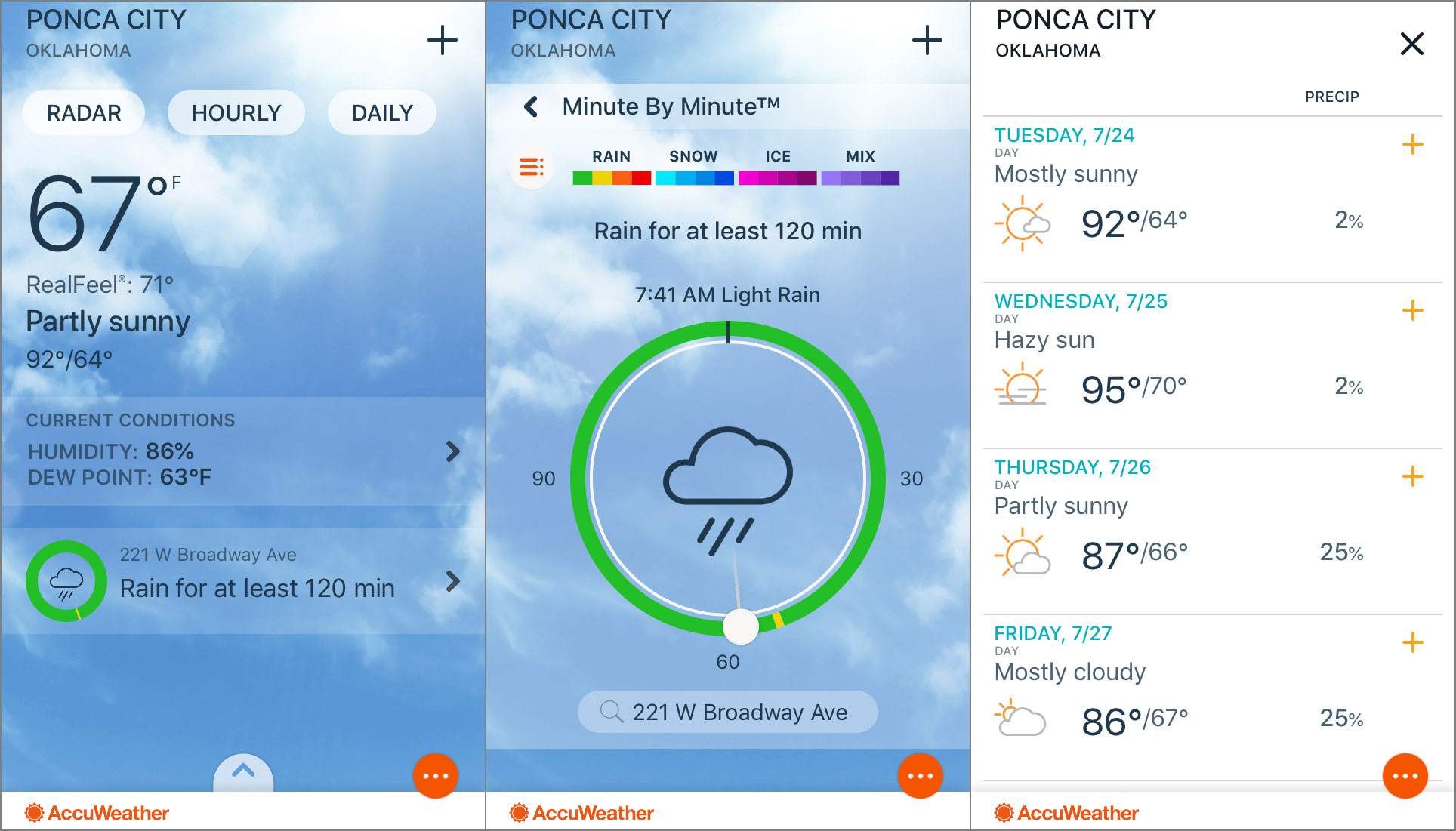 The program provides a forecast for a maximum of 15 days with hourly division. The widget generates recommendations that help you plan your day optimally. AccuWeather works when you have an Internet connection. It contains a minimum of data. Here is a complete list:
time;
atmospheric pressure;
humidity;
visibility;
UV index;
cloud cover;
temperature;
city name;
the time of sunrise and sunset;
wind speed and direction.
To see all this information, you should switch from the widget to the program.
Strengths and weaknesses
This is a beautiful and accurate program that will show you a detailed hourly forecast. The interface is intuitive and maps are available with built-in navigation systems. Also, you can easily monitor the weather in several cities and even watch videos. This program will not take much storage from your smartphone.
However, its program also has one weak side. So, it consumes a lot of the Internet, as well as sometimes abusing advertisements that prevent the user from monitoring the weather forecast. Also, there is some additional content that you can only see if you buy a subscription and glitches somethitems, such as inaccessibility of detailed weather forecasts or automatic shutdown of the program.
Conclusion
Thus, AccuWeather is a reliable program that is almost glitchy and shows detailed weather information for two weeks ahead to its users. However, it does not have the same beautiful design as its competitors. So, it does not have animated effects and a large number of images. Also, the free version of this program will not please you with a lot of advertising.